Featured Article: The 5-Dot Base Mold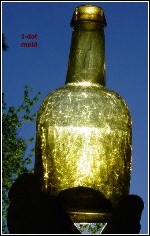 In the late 1970's, I happened upon a yellow porter with 5 small, evenly spaced dimples or dots on the base. The delicate tapered top seemed too small for this barrel--shaped, gutsy porter. It looked freshly dug at the time and I hoped that I had lucked into an unmarked Federal Hill porter.
Years later, I showed the bottle to Bill Hubble, then proprietor of "The Diggers Den". He thought that he had seen this base marking on a Baltimore porter in the Bill Updegrove collection, but couldn't be sure.
For many years after that I was hopeful, but uncertain. Then in 2006, I spotted this same 5 dot base marking on a bottle for sale on Ebay.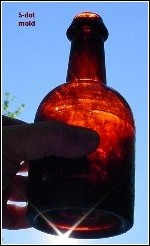 Another wild Federal Hill Glassworks color (deep claret) this one had another distinguishing characteristic -- a wide, flared top particular to the early Baltimore torpedos.
That peculiar flared top was the clincher for me, as the color of both, and the provenance of the yellow one (along with Hubble's recollection) were just too much evidence in favor of these being blown at the Federal Hill Works.
It took 30 years for me to conclusively attribute the yellow porter to Baltimore, and I know of no other examples in any major collection to date.
If the flare-top example had never surfaced, I would have remained skeptical, but the consensus among major Baltimore collectors is that these are both Federal Hill products.
I would date them to the mid 40's, possibly the "Schaum - Reitz" era, prior to the establishment of Frederick & Lewis Schaum as managing partners in 1851.
I'm sure there are other examples out there, and they probably exist in a wide range of exotic Baltimore colors, some above ground--and some not.
I am very interested in acquiring further examples of this mold.