Early Maryland Black Glass...
Article V, Part II - Black Glass Ales of 1780-1820 | back to Articles
by Wil Martindale
Historical research provides clues to the manufacture of Glass bottles in Maryland dating at least as far back as the Colonial period. Evidence abounds, from markers of glass factories pictured on maps, to diary entries, invoices, catalogs and other random bits and pieces of history. These items tend to form a fragmented view of early glassmaking in Maryland, as historians cite tangential evidence from one date to another.
From these fragments, I have attempted to piece together a more chronological view of the development of early glassmaking in Maryland, outlining the various glass manufactories operating throughout the era of this bottle's manufacture. This Chronology of Glassmaking in Frederick County Maryland is derived mainly from Amy Reed's aticle and supplemented by three other resources, including a paper from the Winterthur Museum, excepts from McKearin & Wilson and a Report on the Manufacture of Glass from the U.S. Census Bureau compiled in the 1880's.
We noted in Part I of this article, the vertical mold marks at the base edge of the bottle recovered in Baltimore. We also acknowledged a consensus among certain diggers and collectors of early Baltimore black glass that these marks are indicative of "Baltimore", but what is the basis of this claim? Is it the mere fact that many early black glass bottles with this characteristic have been dug in Baltimore? Could these examples include Maryland made black glass for the Baltimore market, or possibly even certain quart bottles imported into Baltimore from abroad?
If we had any clue as to what the marks indicate, and could trace the origin of these dip molds to their construction and use, we'd have something concrete to go on, but as yet, we cannot definitively say whether the marks were intentional or accidental, let alone what may have caused them. What we do know is that other black glass quart dip molds produce similar tapered verticle marks, but in quantities of three or four as opposed to two.

The bottle with the four similar markings illustrated above and at right (second image from top) is of the same squat quart form, and features a similar early 1800's transitional lip, but with a more pronounced tapering lower bevel. This bottle exemplifies a transition in lip treatments that tends to be less distinctive between the English and American styles of the 1800-1820 period.
This is to say that during this period there are lips which look distinctly English and others which look as though they could be American or English, and those which fall in the latter group tend to be attributed to England. In the case of the bottle pictured in figure 1 from the Cosbert collection, we have a bottle which looks very much like a stylistic predecessor of the Baltimore recovered ale, yet like all of the Cosbert bottles recovered in Guyana, it too was attributed to England.
As the Chronology of Glassmaking in Frederick County clearly shows, the cultural influence of German glassmaking dominated the industry in Colonial Maryland throughout the evolution of the early glasshouses. Glassmen like Lewis Reppert, among Amelung's hundreds of German recruits, ended up in Baltimore, as did probably a fair number of other Frederick County glassmen. It is probably reasonable to assume that pontil and blowing rods, lipping tools and dip molds from the closed works may have traveled with them.
I believe that these ales with the two vertical mold marks could have come from a dip mold that originated either in Frederick County or Baltimore, but which may have ended up at the Baltimore Glassworks either way. The bottles blown in this mold were almost certainly finished by glassmen who came from Frederick County by way of Germany, and they exhibit lip treatments similar to other bottles produced for the Baltimore market during this period.
While it is certain that thousands of English and Continental bottles were imported into Baltimore, and that Maryland glass blowers probably emulated certain characteristics of the imported styles, we must also acknowledge that many thousands of American-made bottles were produced, including some 7000 in Frederick County alone, as reported among two glasshouses in 1810 census reports. It makes economic sense that most of those bottles would be intended for the domestic market, and be subsequently discarded there.
So, while John Readel's and Marcus McCausland's porter and ale bottles could have been a mixture of both imported bottles, and those produced and supplied by the Baltimore Glass Works at Federal Hill, it is certain that Frederick County glasshouses were also producing thousands of bottles during this time, including the New Bremen Glass Manufactory, the Etna and the Kohlenberg Works.
That said, it is probably safe to conclude that these dip mold ales recovered in Baltimore with the vertical mold markings and transitional American style lips were probably a Maryland made product for the growing Baltimore Porter and Ale bottling trade, and the dip mold they were blown in may have survived many years beyond it's first glasshouse home.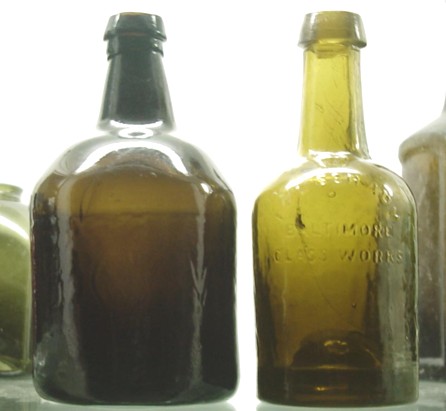 B G W Photos Courtesy of Chris Rowell