Early Maryland Black Glass...
Article V, Part III - Black Glass Half-Pint Squats | back to Articles
by Wil Martindale
We discussed black glass quarts and the BGW pint earlier. Now we are ready to examine four early, dip-mold half-pint squats-- two of which we are fortunate to have the dig context and original photo scans from 1993 and 1994.
Of the half pints we will examine, three were dug in Maryland, and the consensus is that those three are products of a mid-altlantic region glasshouse, with a strong inclination toward a Maryland glasshouse. These bottles are numbered in the pic below, and we will reference these numbers throughout the discussion of them.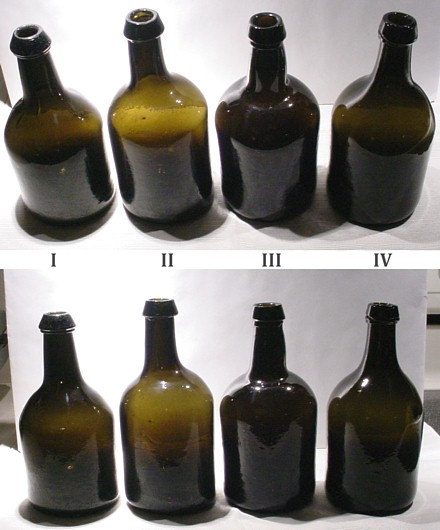 BOTTLE NUMBER I - HAVRE DE GRACE, MARYLAND
This 6.75 inch squat was recovered from a 10' deep, rectangular, stone-lined privy in Havre De Grace, MD, in 1993. The pit contained extensive trash layer, starting with 1890's artifacts at about the 4 foot level, going back though an 1860-75 layer yielding some Saratogas, then graduating to a pontil layer which contained several damaged unembossed sodas.
This bottle was on the very bottom of the pit with some other early pontiled shards. The house was said to have been built in 1840, but the bottle appears earlier, dating probably to the 1830's. It is not uncommon for a bottle of this type to be 10 years old, or older, before being discarded, and the exterior case wear is indicative of years of re-use.
This squat, with its flared taper top and short lower bevel is probably a product of the Baltimore Glass works at Federal Hill. It features an unusual, deep conical pontil, with rust colored oxides embedded in the glass.
BOTTLE NUMBER II - FREDERICK, MARYLAND
This 7" squat sports a heavy tubular pontil and a single taper flared top. It was recovered in Frederick, Md., back in 1994, from a V-shaped trough about 8 feet long, 3 feet wide, and 4 feet deep, which ran down slope into a modest sized single barrel privy. The diggers ended up probing out the trough first, not realizing what they were actually excavating until they reached the downhill end and saw the 8 inch diameter wooden pipe that ran to the barrel privy another two feet away.
The latest items in the pit were early 1850's, going back to the 40's with a Polk & Co. tenpin, then to the 30's with an O'Neill's Catholicon, and then back to perhaps the 20's with two early squats. The digger's date bottle II to 1825-1845, and I am leaning toward 1825. Glass production in the New Bremen area seems to have ceased soon after 1810, but I wouldn't rule out the possibility of this bottle being produced at a glasshouse along the Monocacy if the glass houses there operated a few years longer than available evidence suggests.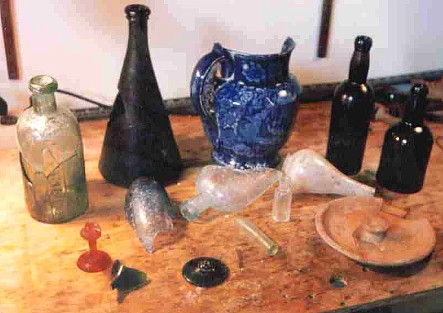 Early Oneill's Catholicon (far left) and slight bulge neck squat (far right) from Frederick dig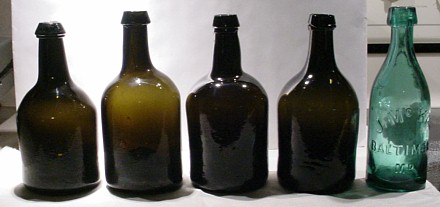 Squats with typical 1860's soda - deep kickups require fatter bodies to hold same capacity
BOTTLE NUMBER III - CHESAPEAKE BAY RECOVERED SQUAT
We don't have the exact details on bottle III, other than that it was dredged out of the Chesapeake Bay. This fat bodied, rounded shoulder squat most closely resembles the BGW pint style, but in a half-pint form. It is difficult to determine if there is an intentional slight bulge to the neck or merely a crude curvature in making. This bottle features a fairly smooth sand-type pontil, of the type seen on English black glass of this period, but also used in America. The double collar lip treatment is also a crossover into English styles of this era, but we believe it to be of American origin, dating to the 1820-40 period.
BOTTLE NUMBER IV - ATTIC MINT SQUAT
Bottle IV may be the most myterious bottle of the group. This bottle was acquired from a New England-based eBay seller who described it as being an English or Colonial bottle, of rare form "most often seen in paintings", and dating to as early as 1750. However the bottle is so similar to bottle II in so many regards that it is difficult to see how they could possibly be separated by 70 years in time and hundreds of miles in provenance.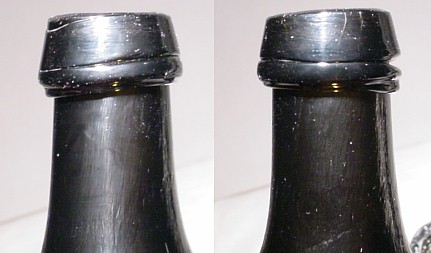 It It is difficult to know exactly what the glassblowers were attempting with the lip application, as it is so crude. It appears to be an attempt at a single taper top, possibly with a slight lower bevel, but the gather appears to have split. This bottle is slightly more olive than I and II and more olive in tone than bottle III.
This recent acquisition provokes more questions than provides answers. All four bottles are close in color and all share a a slightly rough, pitted exterior texture, as compared to the silky smooth exterior found in certain dip-mold half pints, including the 1820's open-pontiled mead identified by Doug Gancy as a possible upstate New York piece from the 2008 York show.
At best, the generalities we can take away from this small sample of half-pints is that they probably were produced in America, alongside more delicately formed dip mold half-pints, in finer grade glass, and in lighter colors. These half-pints represent a production method more closely aligned to the black glass pints and quarts of similar character, mass produced on a larger scale, both here and abroad.
Surely, their production was limited to those glasshouses which existed prior to 1845, but that qualifier does nothing to settle the question of smaller glass houses which may have cropped up during this period which little or nothing is known or written about. The locations of those glass houses, and the lineage of the glassmen who operated them, may forever remain a mystery.
With so few questions answered, one might wonder why anyone would chronicle these finds in the first place. I do so merely to add to the record of what is written about them, and hope that more examples will be found, more will be written, and eventually more light will be shed upon this murky subject of early free blown and mold formed American black glass.