Norris Research Reveals 1837 Druggist Listing...
Article I - The NORRIS listings | back to Articles
by Wil Martindale
While researching the pontiled NORRIS / BALTe cylinder, I found some interesting listings in the Matchett's Baltimore Director. That research, together with what it turned up, induced me to write the following article.
Listings for Norris's in Baltimore are found as early as the 1820's, but it was the 1837 Matchetts Director that lists a Richard Norris as a druggist at 254 Baltimore St., listing him as "Richard, of Wm." which I take to mean that he was associated with William B. Norris, listed next door at 256 Baltimore St.
Also listed with "W. B. Norris" at that address is "F. A. Norris", probably a mispelling of "T. A. Norris" (Thomas A. Norris) who is listed for many years before and after 1837 as a principle of "T. A. Norris & Co." dealers in tea, "segars", dry goods, etc. Thomas A. Norris is also listed as a Director of the Union Bank of Baltimore in 1833.
One might surmise that T. A. Norris established a thriving family business at 254 and 256 Baltimore St. sometime in the 1820's, as confirmed in the 1829 directory listing of "T.A. Norris & Co., Merchants". W. B. Norris is listed at that same address from 1833 through 1842, though various other "Norris" firms are listed elsewhere, as grocers and merchants, and with other partners and at other addresses (including at least two "Mrs. Norris").
I found an 1852 display ad, whereby the firm is now established as "Norris, Calwell & Co", on Market Street. The products are similar, and most probably, the "W. B. Norris" below is the same as referenced above.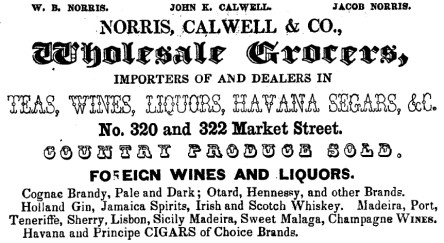 Notice that by this time, all sorts of wines and liquors are being offered, and are probably being put up and sold in bottles, but none of these products would be bottled in vessels the shape and size of the NORRIS cylinder. That bottle more closely resembles the style of bottle used by druggists, and the short tapered top and odd abbreviation of Baltimore keep bringing me back to the 1837 listing--the only such druggist listing found during the years in which the bottle was most likely produced (1829 - 1845).
Was Richard the son of brothers William and Thomas? Perhaps a brother? Did he dabble in the druggist trade for one year only? Hard to say, but the year 1837 fits in neatly with the design of the bottle, which some collectors believe to be a cross-over into the early open pontil soda form.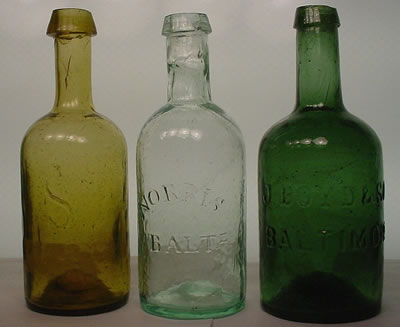 Though this information does not conclusively identify or date the bottle, it does provide supporting evidence of my initial assessments. I also uncovered some additional information which should be of interest to early Soda and Mineral Water bottle collectors. More about that here.